Team Spirit Rag Quilt Pattern

Whether you use this quilt as a lap quilt for football games or as a baby quilt for the perfect shower gift, this large block football team spirit rag quilt is a great project for beginner an experienced quilters alike. This quilt also uses rag style applique hearts, a technique that you can use to add depth to any rag quilt. Remember you can use other shapes beyond hearts as well.

Finished size approximately 50″ by 60″ – perfect for baby or taking as a lap quilt to football games.

Our example quilt was for the University of Alabama Crimson Tide which has colors maroon (red) and white with the unofficial houndstooth pattern hearts (after their beloved coach Bear Bryant's hat). Use the colors of your favorite or local football team for your quilt. For example, our other local team is the Auburn University Tigers (WAR EAGLE!) so for those quilts I use their orange and blue with hearts in tiger stripe fabric. You could also easily do this in pastel colors for non-football baby quilts.

Materials
15 – 12″ squares of primary color
45 – 12″ squares of secondary color (this will be the back of the quilt as well)
30 – 10″ squares of quilt batting
15 – 10″ squares of coordinating color/pattern fabric for hearts (if
your team does not have another pattern or color they use, just use more
primary color fabric)
Coordinating color sewing thread
Rag quilt scissors (these spring-loaded, snub nose scissors are lifesavers for your hands)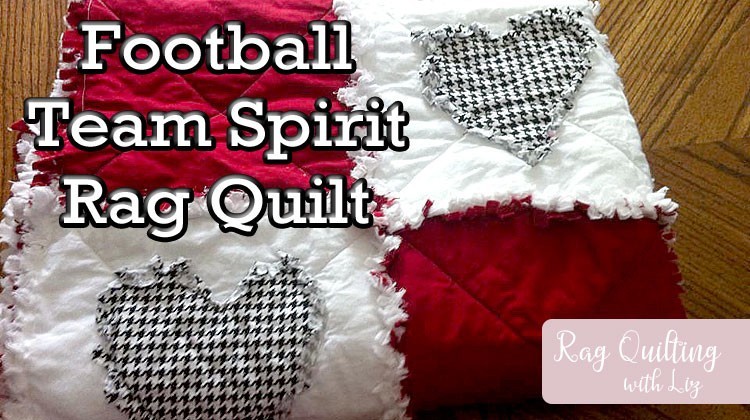 Cut Your Squares and Batting

Cut out the squares for your rag quilt. I find it easiest to cut squares using a rotary cutter, straight edge, and cutting mat.

Cut the Heart Appliques

Now that you have all your squares cut, gather the squares in the fabric pattern you will be using for the heart appliques. To cut out the hearts for your quilt, print or draw a heart 10″ long and 10″ wide (roughly). Then fold the heart in half.

You can print out our half heart template by clicking here if you prefer that to drawing your own. Note that it will give you a warning that it will print at low resolution. This is fine. It is just a line drawing for you to use as a pattern.
Fold your 10″ fabric squares in half and place your half heart template on the fabric with the center of the heart lined up with the fold of the fabric. This way, when you cut out the half heart, you are getting a whole fabric heart. If you pin the template to your fabric, be sure to pin through both layers of fabric.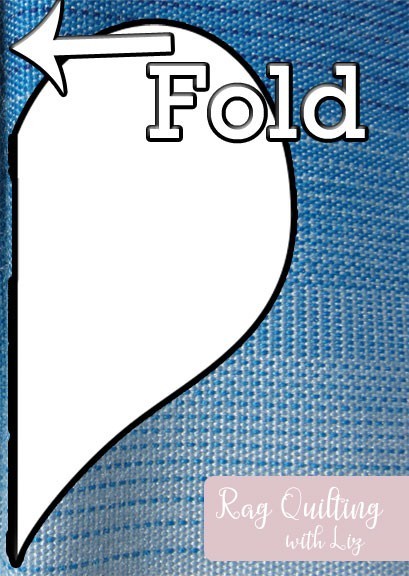 Assemble and Sew the Sandwiches

If you have not made a rag quilt before, it will probably be very helpful to you to read our how to make a rag quilt tutorial before continuing.

First step in this quilt is to assemble the 12″ square sandwiches (sandwiches is just a term used to describe the blocks because they are layers of fabric) . Layer together a backing piece, a batting piece, and a top piece and pin in place. Remember that half of your square stacks will be the same color on front and back as we are using the secondary color for the backing as well.
NOTE, this is with right sides facing OUT. Remember that rag quilts have the seams on the outside and are not turned. Your end result of this step will be 30 blocks of three layers.
Sew an X shape across each block and set aside.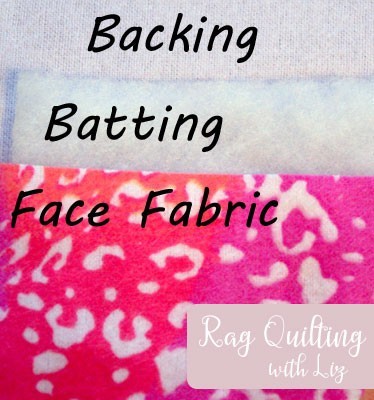 Add the Applique Hearts

Now, we will add the heart appliques to the secondary color (same as backing color) squares. Place a heart shape in the middle of the block, right side up, and pin. Sew around the heart, 1″ inside the edges (remember we need
that loose edge to fray).
Don't worry about it being absolutely perfect, the fraying of the lose edge will cover any small errors after one or two washings of the quilt.
Assemble the Rows

Now that we have our blocks assembled (15 primary color/backing and 15 secondary color with heart/backing) we can put the whole quilt together.

This quilt is 5 squares wide and 6 squares long. We'll be assembling the 5 square rows first for this quilt. Using the diagram below, begin sewing your squares together for the first row. We are using a 1″ seam allowance for this quilt.

Remember to sew your sandwiches together with the back sides together so your seams show on the front. The exposed seams are what create the rag effect later.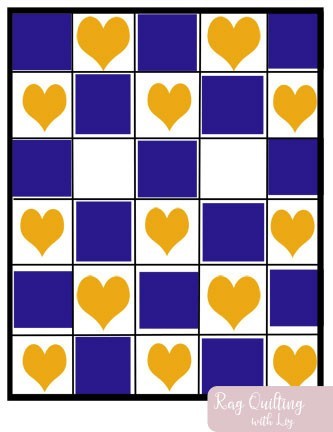 Repeat for each of the 6 rows.

Once you have all 6 rows joined, we can begin sewing the rows together. Use the same process (backing sides together) and refer to the assembly diagram to make sure you have the rows placed correctly.

Again, use a 1″ seam allowance. When you have all of your rows joined you will need to sew one final seam around the outside edge of the quilt to create the binding. Using a 1″ seam allowance again, simply sew all the way around the four outside edges of the quilt.

Finishing Your Quilt

You are almost there! The last bit of creating the rag quilt is to clip the exposed fabric edges so the edges can fray. Using snub nosed scissors (these help prevent you from accidentally clipping your sewn seam), clip the exposed edges every 1/2 to 1/4 inch or so. There is no exact measurement for this, it is just a matter of preference and how
much fraying you want to create. Most people work on clipping the edges while watching TV. Just be careful not to clip through your sewn seams. When clipping, it is a good idea to stop at least 1/8" of an inch from the seam itself to maintain seam integrity during the fraying process.

Once all your edges are clipped, it is a good idea to inspect your quilt for any pulled seams. Restitch any pulled seams if found. Once this is complete, wash your quilt to begin the fraying process. If your household plumbing is prone to problems, wash and dry the quilt at a laundromat. When drying the quilt, I like to stop the drying halfway through the cycle and clean out the lint filter. This helps prevent lint overflow.
Enjoy your quilt!